50*50mm Square or round copper mould tube or Crystallizer copper pipe

Quick details:
Item name: Cooper mould tube Use: Continuous Casting Machine
Materail: Copper Orginal: China
Shape: Round/ Square/Rectangular Length: 700-1000
Made type: CCM
Cooper tube pictures: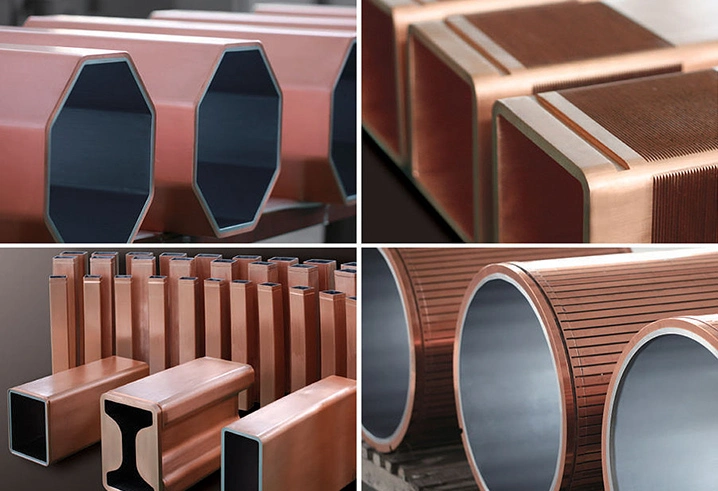 Square copper mould tube is an essential part that used in any construction. It is created with a good quality of raw materials that produce reliable sources. We provide copper mould tube products based on industry norms and high standards. You might order applications according to your industrial needs. We help you to produce these products on your limited budget to access on your field.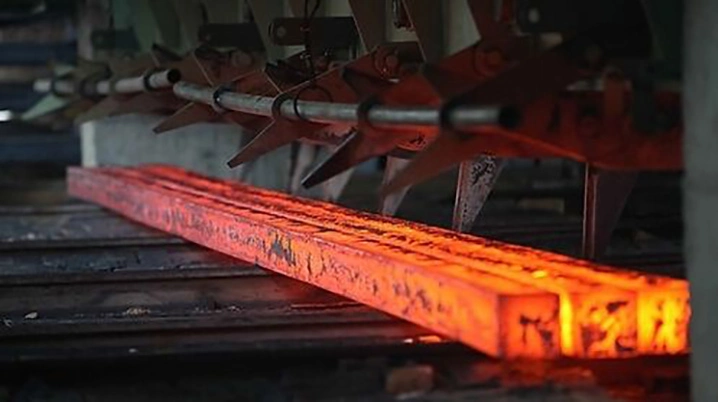 Raw Material of Square copper mould tube
To provide mould tubes with optimal physical and mechanical properties to customers' specifications, mould tube products are supplied of the following materials:
1. Cu-DHP: Normally used for mould tubes section size below 180x180mm and round tubes below Dia.150mm.
2. Cu-Ag: Normally used for mould tube section size above 180x180mm and round tubes above Dia.150mm
3. Cu-Cr-Zr: Normally used for beam blank mould tubes
Specifications of Square copper mould tube
We supply all kinds of Copper Mold Tubes of all sizes and dimensions, produced exactly as per the required drawing. The Sizes for Copper Mould Tubes is enlisted as under:
NAME
SIZE
CAMBER RADUIS
THICKNESS
LENGTH

Square & rectangle




copper tube

Square




50x50-650x650




Rectangle




(100-500)x650

3000-17000




Also straight

6-50

602-1100

Round copper tubes

∅

110-

∅

1500

5000-17000




Also straight

10-50

602-900

Non-standard copper mould tubes




Beam blank copper mould tubes

535-150x120-70

600-14000

12-50

700-1016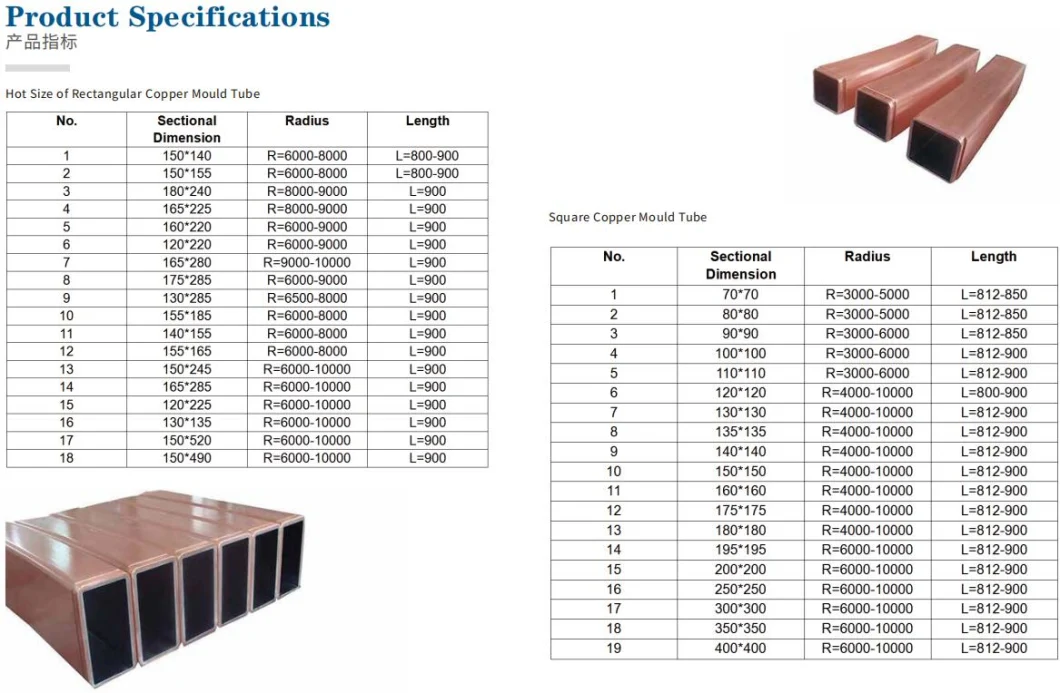 Production Process of Square copper mould tube
MELTING & CASTING --- HOT EXTRUSION/FORGING --- COLD DRAWING --- TAPERING --- MACHINING --- ELECTROPLATING --- MACHINING AFTER ELECTROPLATING --- FINAL INSPECTION --- PACKING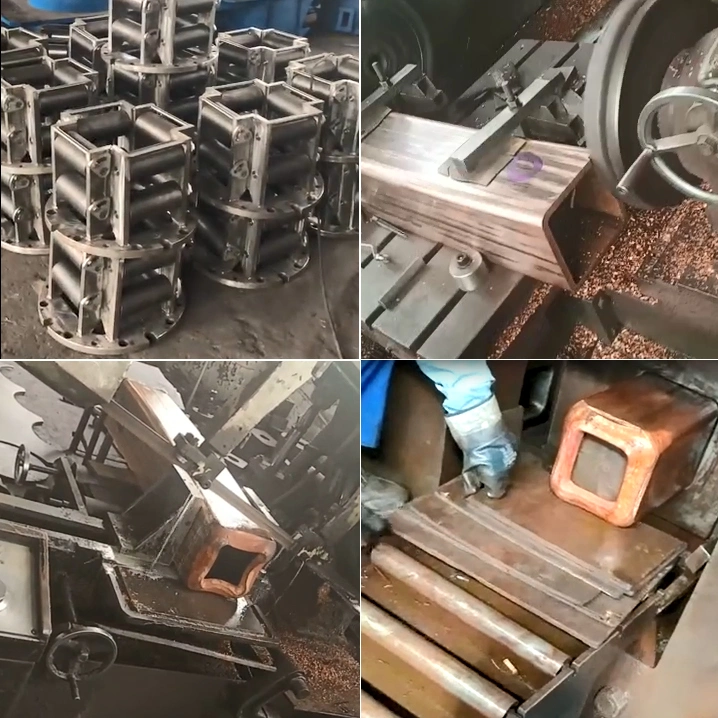 Coating for Square copper mould tube
In order to increase the erosion resistance and service life the casting mould tubes, we always dedicated to research special coatings. The mould tubes can be coated with our different types of internal surface coating: Cr, Ni-Co, Ni-Fe, Ni-Co-Cr. The coating thickness recommended by us has been controlled in the best range.
The Advantages of
Square copper mould tube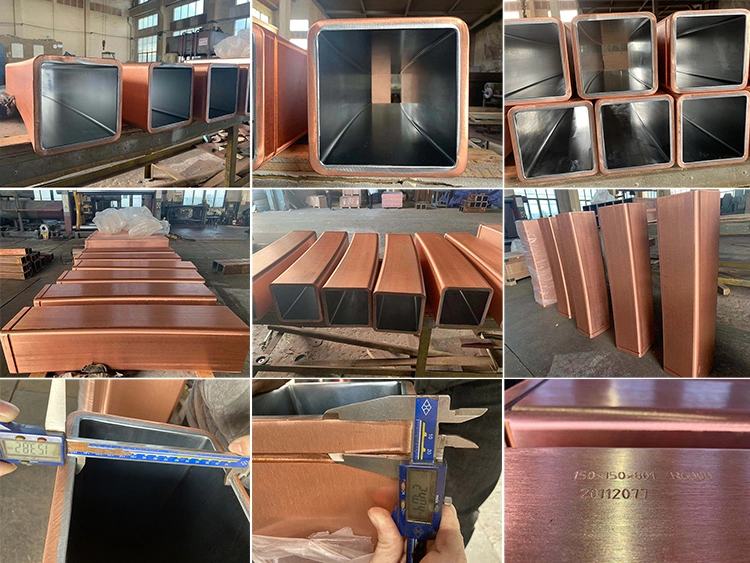 Extra-long service-life is achieved with the special multilayer Ni-Co-Cr coating, which features high micro hardness and optimum binding strength with the copper base. The tubes are designed for maximum heat transfer rate from the meniscus down to the bottom of the tube. The taper-geometry depends on the steel-grades and casting conditions and is designed with the aim of minimizing the gap between the solidifying shell and the copper tube.
Package for Square copper mould tube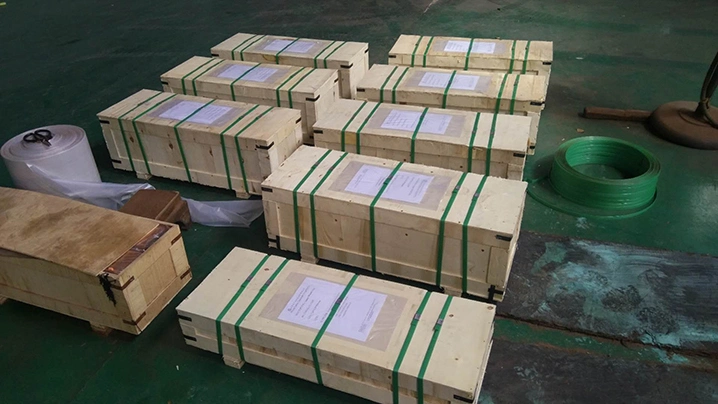 Company profile
Founded in 1992, Henan Shengmiao Instrument Co., Ltd. is one of the China's leading supplier of round, square,
rectangle, non-standard
copper mold tube and plate for CCM(continuous casting industry). With over 20 years of expertise in metallurgy industry of copper and copper alloys, the company is committed to research & development, and providing a range of high quality, innovative, cost-effective copper mould tube products and solutions.
Being approved by international well-known inspection institutions such as SGS, OMIC, IKA, ISQI, COTECNA, our products have been exported to Europe, Asia, Africa, South America and Middle Eastern countries, which enjoys good reputation.
As an influential and responsible supplier, we are able to provide our customers with more thoughtful services and technical support. To ensure long-term customer satisfaction, we offer comprehensive support for Square copper mould tube over their whole life cycle.
Contact details:

For more details please feel free to connect, will reply you in 24 hours.