1, PPR FITTINGS SIZE AND SPECIFICATION;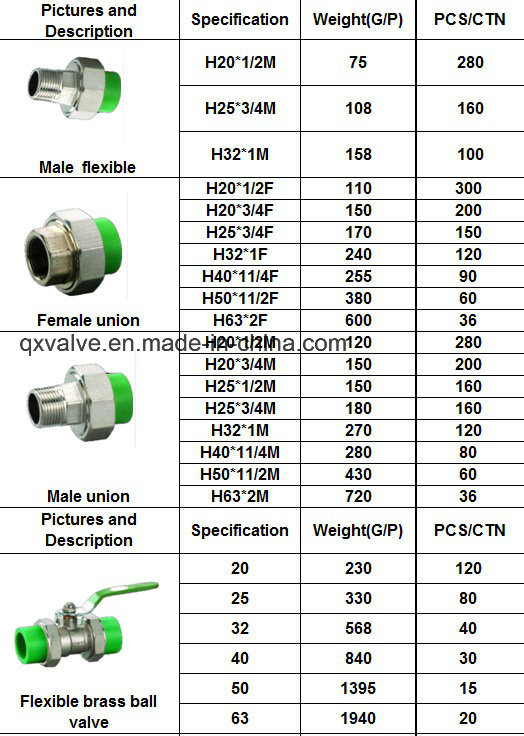 2, Feature and useful!
1) Healthy, bacteriological neutral, conforming to drinking water standards
2) Resistant to high temperatures
Specifications: (PPR coupling)
1) Material: Good quality, New material
2) Dimensions: Dn20mm-110mm
3) According to GB/T 18742.2 which consists with DIN: 8078 / 8077
4) Colors: White, gray, green
Properties:
1) Healthy, bacteriological neutral, conforming to drinking water standards
2) Resistant to high temperatures, good impact strength
3) Convenient and reliable installation, low construction expenses
4) Excellent heat-insulation property from minimum thermal conductivity
5) Lightweight, convenient to transport and handle, good for labor-saving
6) Smooth inner walls reduce pressure loss and increase flow speed
7) Sound insulation (reduced by 40% compared to galvanized steel pipes)
8) Light colors and excellent design ensure suitability for both exposed and hidden installation
9) Recyclable, environment-friendly, accords with GBM standards
10) Extremely long usage life for at least 50 years

Applications:
1) Potable water For cold and warm water installations
2) For rainwater utilization systems
3) For compressed air plants
4) For swimming pool facilities
5) For solar plants
6) For agriculture and horticulture
7) Heating pipes for residential housing
8) For industry.
3 Why choose QX?
(1) We provide OEM service and submit Various styles, latest designs to our clients;
(2) We work with big customers in Southeast Asia, Africa, Middle east, North America, South America;
(3) According to the needs of customers in different regions, we match different quality and thickness valves with various styles, so that our customers are very competitive in the market!

(4)Our high quality PVC valve can be consistent with European and American national brand valves!
(5) We have great experience on providing high quality products and most professional service to clients about 10 years more!
(6). Customers choose our products, can mix and match our PVC pipe fittings, PVC butterfly valves, PP Fittings, irrigation products to buy together, so that the customer product line is more abundant, both quality and delivery time are guaranteed.
(7) We can flexible from China any port export ! Welcome you inquiry us!

Send to us your inquiry if you interested to them or need them! We will doing the best for you!