Imported material PPR pipe fittings china supplier PPR concealed ball valve
PPR Concealed Valve (I) B18
20
228
50
48x23.5x23.5
25
336
45
48x23.5x23.5
32
40
48x23.5x23.5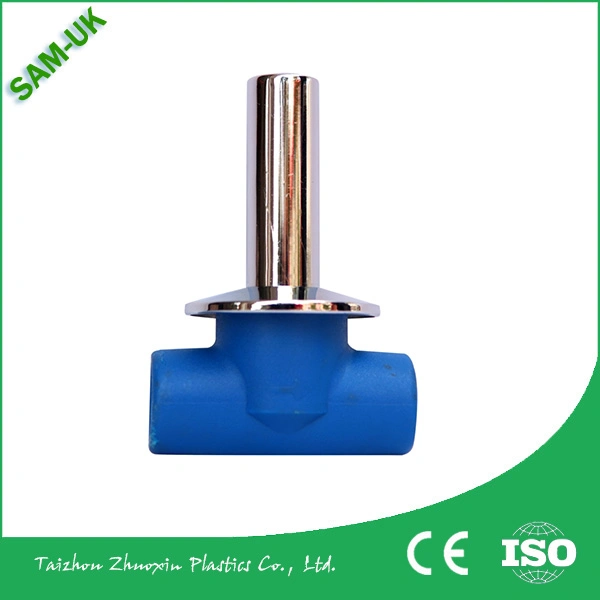 Taizhou Zhuoxin Plastics Co., Ltd. (SAM-UK) which was established in 2006, is one of the professional manufacture of plastic pipes, plastic fittings, plastic valves, and plastic taps. Our main products are PVC pipes, PVC fittings, PPR pipes,PPR fittings. Currently we mainly supply NBR 5648 standard, SCH40 ASTM D2466 standard, BS 4346 standard,ASTM D2665 standard products etc. Our products are sold to Southeast Asia, Africa, the Middle East, Australia, America, etc.
Our company located in Huangyan- the cradle of plastic products of China, the company borders north on Shanghai and Ningbo city on the north , and Wenzhou city on the south. The traffic is very convenient,it's only 13 km from TAIZHOU train station, and 30 kms from Taizhou Airport and 10 kms from the Ningbo-Taizhou -Wenzhou expressway.
Following the market as the guidance, striving to survival on the bases of good quality, insisting on developing with science and technology, obtaining benefit from efficient management , winning reputation from excelent service, and adhering to the tenet of "quality first, customer supreme, continuous innovation", the company is owning deeper reliance and better reputaion from customers.
We sincerely welcome customers domestic and overseas to visit our company for advising and cooperating.
2. Properties:
1) Healthy, bacteriological neutral, conforming to drinking water standards
2) Resistant to high temperatures, good impact strength
3) Convenient and reliable installation, low construction expenses
4) Excellent heat-insulation property from minimum thermal conductivity
5) Lightweight, convenient to transport and handle, good for labor-saving
6) Smooth inner walls reduce pressure loss and increase flow speed
7) Sound insulation (reduced by 40% compared to galvanized steel pipes)
8) Light colors and excellent design ensure suitability for both exposed and hidden installation
9) Recyclable, environment-friendly, accords with gbm standards
10) Extremely long usage life for at least 50 years
3. Our business steps:
1)Communication: Customers interest in our products, discuss price, check sample quality
2)Negotiation: Talking about the sizes, quantity, and other details
3)Ordering: Settle down and place order to us
4)Producing: After orders, we start productions at once
5)Packing: While products come out of machines then packed
6)Delivery: Everything gets ready, place the ship, send to dock, to be shipped
Items
Descriptions
Material
PVC-U , PPR
Products
Pipelines for water supply and drain ,Female and male Coupling ,Socket, Cap , Tee , Adapter , Elbow , Reducer, Union , Plug , Pipe Clip , Valve , Plastic Tap and Mould
Size
1/2"- 4" 20-110mm
Standard
ASTM D2466,ASTM D2665 , BS4346, NBR5648, DIN8078 / 8077
Machines
injection machines
Colors
white and gray for PVC products , green ,grey, white and blue for PPR products
Working place
PVC -15°-55°,PPR-20°-90°
Warranty
at least 50 years
Delivery time
30-40 days
We have a mould workshop also we can make mould