Polyvinyl Chloride (PVC)
What is PVC
Polyvinyl Chloride (PVC) is a linear thermoplastic resin produced by polymerization of vinyl chloride monomer. Due to the difference of raw materials, there are two methods of synthesizing vinyl chloride monomer - calcium carbide process and petroleum
(ethylene)
process.
Buckton
Group
has ethylene based PVC resin manufactured by suspension process.
The product has good chemical corrosion resistance, excellent electrical insulation property and fine chemical stability. With high chlorine content, the material has good fire retardance and self-extinguishing properties. PVC is easy to process by extrusion, injection molding, calendering, blow molding, compressing, cast moulding and thermal molding, etc.
PVC's Physical Properties
The features of the particular plastic are determined by its chemical composition and type of molecular structure (molecular formation: crystalline/amorphous structure).
PVC has an amorphous structure with polar chlorine atoms in the molecular structure. which furthermore possess fire retarding properties, durability, and oil/chemical resistance.
Fire retarding properties
Durability
Oil/Chemical resistance
Mechanical stability
Processability and mouldability
The polar groups in PVC contribute to ease of colouring, printing and adhesion. PVC products do not require pre-treatment, which enables a wide variety of designs.
Applications: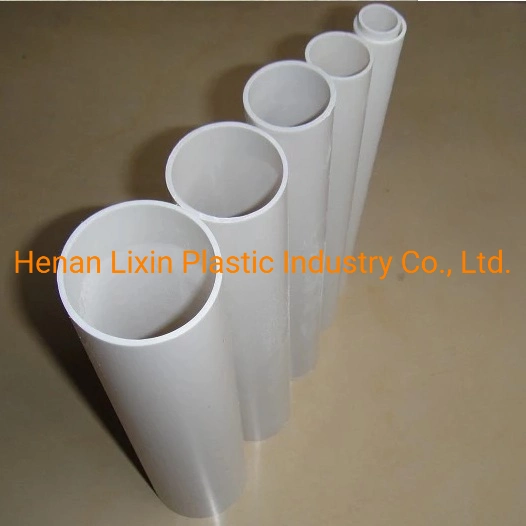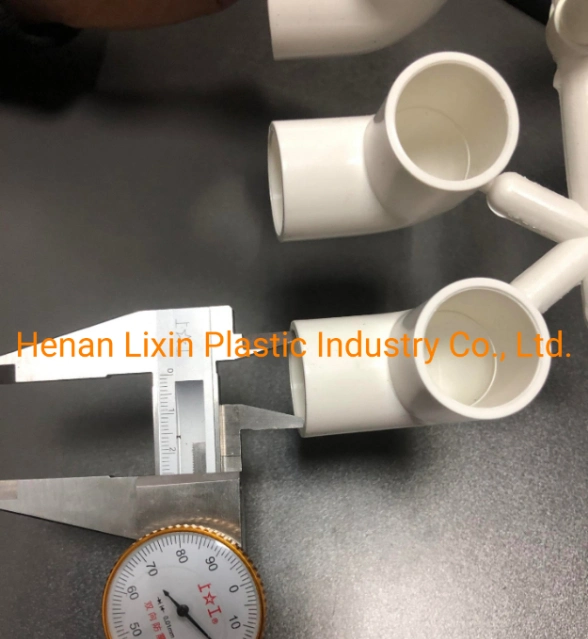 PVC is one of the most widely used thermoplastic resins. It can be used to make products with high hardness and strength, such as pipes and fittings, profiled doors, windows and packaging sheets. It can also make soft products, such as films, sheets, electrical wires and cables, floorboards and synthetic leather, by addition of plasticize.
Package, Storage and Transportation
The resin is packaged in
plastic bags or
compound bags of kraft paper and coated PP woven material, or packaged in bulk. The net weight of small package is 25Kg per bag and that of large package is
500kg.
The resin should be stored in well-ventilated and dry warehouses against fire, sunlight and dampness, and should not be piled up in the open air. Clean and covered transportation vehicles should be used for transportation to prevent from rain.
Grade, Typical Values and Applications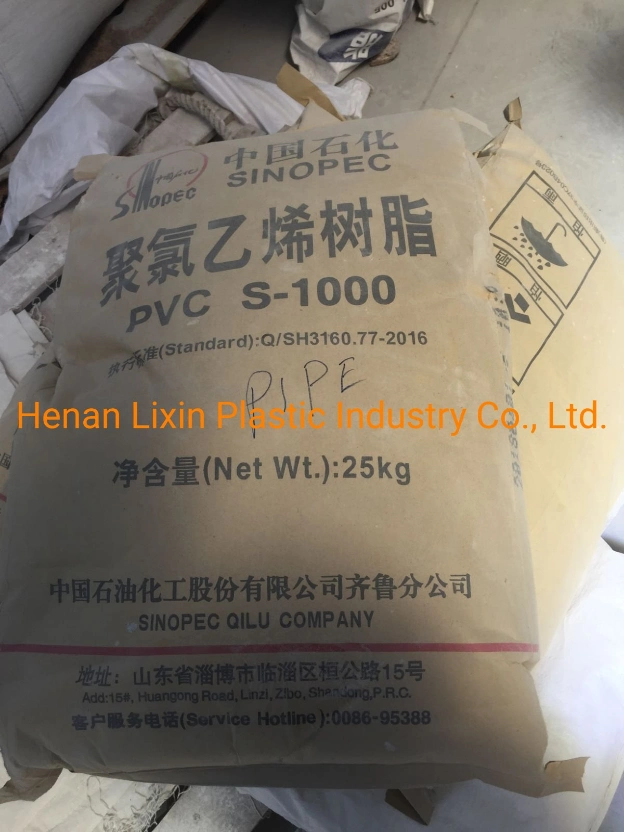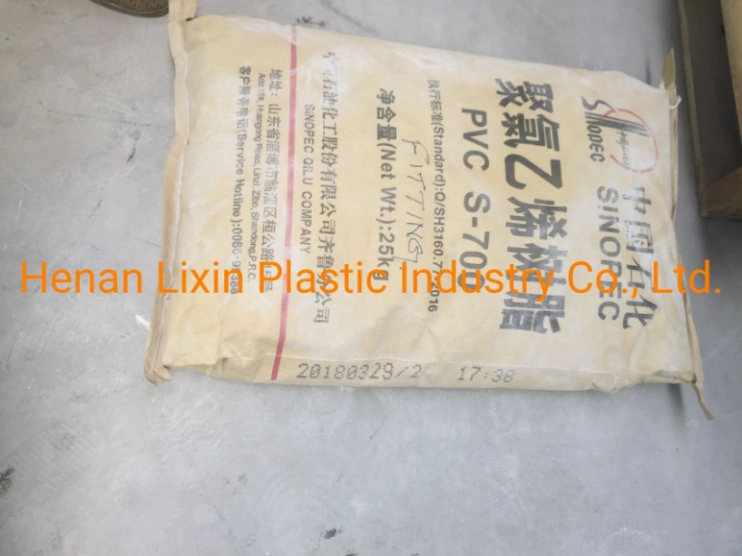 Grade

BS-1000 (SG5)

Impurity

particle

(

number

≤)

16

K value

66-68

Average polymerization

1100-1000

Volatile content, %

≤

0.3

Apparent density, g/ml

0.54

Remain (testing sieve ) %

0.25mm sieve, ≤

1

0.063mm sieve, ≥

95

100g resin plasticizer absorbency (g, ≥)

2

1

White degree(160

ºC

After 10min.), %

≥

80

Pearl eye number, grain/400cm2

≤

20

R

esidual VCM, mg/kg

≤

5

Application

Irrigation Pipes, Drinking Water Tubes, Foam-core Pipes, Sewer Pipes, Wire Pipes, Rigid Profiles
Grade

BS-700 (SG8)

Impurity particle (number ≤)

16

K value

56-59

Average polymerization

650-750

Volatile content, % ≤

0.4

Apparent density, g/ml

0.56

Remain (testing sieve ) %

0.25mm sieve, ≤

1

0.063mm sieve, ≥

95

100g resin plasticizer absorbency (g, ≥)

14

White degree(160ºC After 10min.), % ≥

78

Pearl eye number, grain/400cm2

≤

30

Residual VCM, mg/kg ≤

5

Application

Injection Molding Materials, Pipes Materials, Calendering Materials, Rigid Foaming Profiles, Building Sheet Extrusion Rigid Profile
Product Available Form:
Powder forms Packed in 25KG/650KG big sack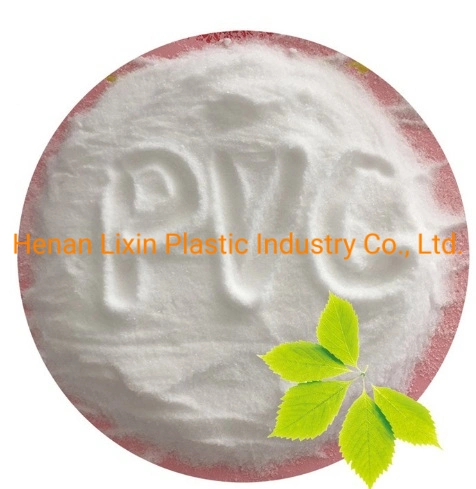 Storage:
It should be kept away from flames or other sources of heat.They should be stored in cool and ventilated area.
Safe handling:
Adequate precautions should be taken to keep all dust levels below values that are hazardous to health and safety. In the case of eye or skin contact, eyes should be flushed with water to remove dust particles and affected skin areas washed with soap and water.
Packing: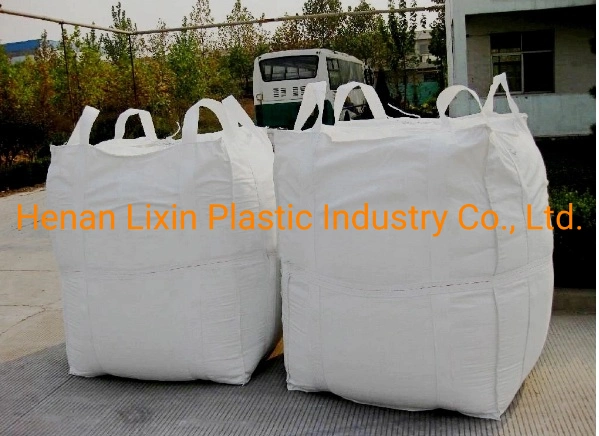 Warehouse: